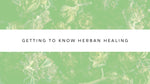 Getting to Know Herban Healing
It seems as though CBD is on everyone's radar these days, and there are a few good reasons for that. For us, we've always believed in the benefits that CBD can offer to people, so our mission at Herban Healing is to spread those benefits to as many people as possible.
Of course, we know – there's a lot of ambiguity surrounding CBD, but the product itself is as natural as anything else that comes from the earth. Our driving mission is to inform consumers of the benefits they can expect from CBD products, as well as how a growing American cannabis industry is a positive thing for the public.
Why'd we get into this business?
Herban Healing is a family-owned operation and we've been working in the medical marijuana industry for over 15 years. Initially, we saw an opportunity to bring consumers relief from common ailments – such as aches, pains, anxiety, stress, and insomnia – without the use of harsh chemicals, addictive pharmaceuticals, and bank-breaking prescriptions. Today, we're proud to say that this is still what keeps us in business.
With more and more Americans becoming addicted to prescription medications that are often riddled with negative side effects, many are now seeking relief from naturally occurring substances that address their concerns without simultaneously giving them a laundry list of new concerns. It's no wonder CBD has become increasingly popular over the years.
Why CBD?
CBD is derived from the cannabis plant, but our product is 100% THC-free. This means that our customers can enjoy the benefits of CBD without the mind-altering affects associated with THC. There's no "high" associated with any of our products, but our customers can expect and rely on relief from them.
Depending on the product, our CBD oils are diluted with carrier oils like hemp seed or coconut oil to temper the potency and offer consumers the most effective dosage.
Now, with laws surrounding CBD and cannabis changing and expanding constantly, we're glad that more Americans will have access to the plant's benefits. Of course, we're constantly monitoring these laws and regulations so that our customers don't have to.
How do we operate?
We're proud of the fact that we run every step of our operation, from seed to shelf. We oversee the growing process on our dedicated California farmland, we ensure the CBD is extracted precisely and without any traces of THC, and we carefully infuse our products to deliver something that is consistent and reliable to our customers.
And we're happy to do it! If we didn't believe in this product and what it can do for you, we wouldn't go to such painstaking lengths to make sure you were getting the very best version of it. We want you to believe in it just as much as we do.
Looking forward…
As the cannabis industry continues to expand, we're looking to do so, as well. Starting with a few stores in the Houston area, we hope to be in a town near you in the near future. Until then, our online store is for you!
By Yasmin Khan